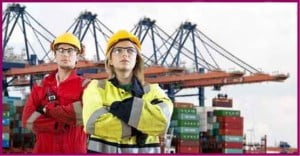 You can engage an Impact Executive Solutions WH&S Consultant either to assist with a specific problem or help you to run your WH&S management system. These consultancy services can be planned long term or scheduled as frequently as necessary to ensure adequate levels of support are available to your directors, managers and employees.
At Impact Executive Solutions we believe the key to your organisation's success is its people. Your employees are potentially your business' greatest asset and ensuring their health, safety and well being in the workplace is an absolute business imperative.
We recognise that your business is affected by rigorous WH&S regulations that impose duties, obligations and penalties on the company, its directors, managers and employees for the safety and welfare of employees, contractors and visitors alike. Consequently, a strong commitment to the safety and well being of both staff and customers is critical to your business strategy.
The WH&S Act and Regulations requires you to put into place systems to identify, assess, eliminate or control health or safety risks. Using expert and qualified WH&S Consultants, Impact Executive Solutions provides a comprehensive range of services that can help you comply with WH&S legislation, prevent and reduce workplace injuries, minimise lost time and reduce your workers' compensation premium. These include services include but are not limited to:
  Developing and implementing sound WH&S policies and procedures
  Developing and implementing a WH&S & Injury Management system
  Identification of workplace hazards
  Assessment of risks arising from those hazards
  Implementation of measures to control those risks
  Induction training needs analysis and induction training
  Accredited trainers offering a range of courses for all WH&S topics
  Incident and injury investigations
  Injury management
  Crisis Management
  System & Risk Management audits and reviews
Work Health & Safety Services
The increased emphasis on WH&S in the workplace requires organisations to design, develop and implement WH&S programs that meet legislative requirements and enhance workplace safety. Impact Executive Solutions offers a full range of WH&S services including audits, job safety analysis, training, system reviews and accident investigations. Impact Executive Solutions can help you proactively establish robust systems and processes to manage WH&S and to help prevent injuries occurring at all.
Accident Investigations
Should a major incident or injury occur, you may need an independent WH&S professional to assist in obtaining an analysis of the events leading up to the incident or injury and to identify why the incident occurred and what needs to happen to prevent similar situations occurring in the future.
An Impact Executive Solutions Consultant will investigate accidents, injuries and near misses in regard to workplace situations and public places. This can include the preparation of reports for legal practitioners that can assist in establishing negligence or defending a negligence action and reports to be used as part of the defence for prosecutions under the WH&S Act or Regulations.
Risk Assessments
Each individual workplace has its own intrinsic hazards and Risk Assessments are intended to objectively identify hazards that could injure a person and using risk analysis techniques, quantify the degree of risk. An Impact Executive Solutions Consultant can help you identify the hazards in your workplace and assess the risks they pose to your staff and the general public, offer advice on suitable solutions and devise an implementation and training program to suit your business. Examples of such work include hazard analysis, risk assessments of plant and equipment, manual handling risk assessments, confined spaces, protective clothing and equipment, development of hazardous substances management systems, and preparation of Material Safety Data sheets.
Crisis & Disaster Recovery Planning
Whilst Risk Management will minimise the potential for catastrophic losses there is always a chance that a significant event will occur which, if mishandled could threaten the existence of the organisation. Management therefore has to plan for such events to ensure that emergencies are handled efficiently and that the time taken to recover from the event is minimised. Impact Executive Solutions can offer specialist services relating to emergency response planning, corporate disaster recover plans, and crisis management planning.
Phone Joanne Wayte today on 0416 025 190 for an obligation free evaluation of your business WH&S and Risk Management needs.